Here in Indonesia, there's a tradition to celebrate the end of Ramadan by buying new clothes. Well, rather than buying one, I made a new piece of clothing. The story goes that I've been unable to find the kind of trousers I want in stores since I have . . . well, athletic legs; the trousers that fit well in the legs are always too large and low in the waist, while the ones in my waist size are too skinny and constricting in the legs. So, with more than a little help from various people, I learned to draft a pair of modern trousers that fits the way I want it to: with a decently high waist (albeit at the position I'd call a "normal" rather than "high" waist for trousers, i.e. at the navel rather than anywhere below it), rather slim but not skinny in the legs, and hemmed at right about ankle-height so that I wouldn't have to roll the legs up to keep them off the floor when I take off my shoes -- a fairly important issue since I spend a great deal of time going barefoot.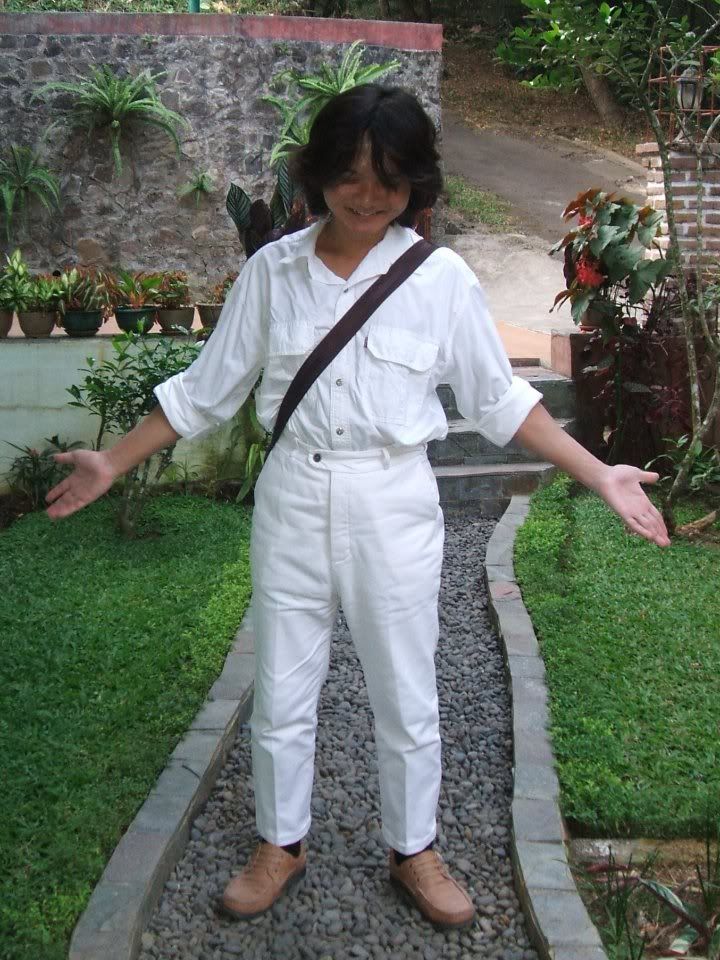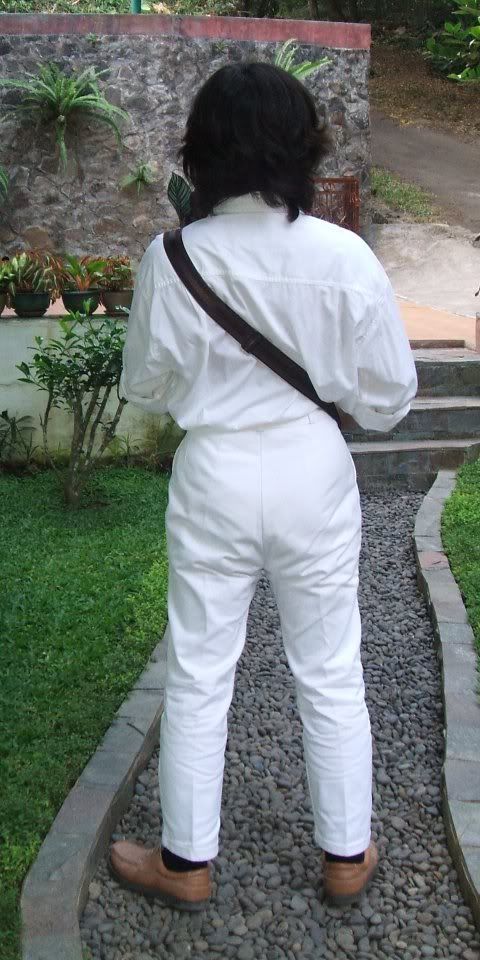 The progress hasn't always been smooth. I originally finished the trousers early in August, but after I wore it a couple of times it became obvious that the waist still had a tendency to sag, so I partially disassembled the waistband, moved the button to reduce the waist by about an inch, and added a pair of snaps to help keep the waistband in shape against the stresses of movement and the trousers' own weight. The result is what you see above--no more sagging, and greater freedom of movement since now I can be sure that the trousers' crotch will sit right up against my own crotch rather than hanging something like an inch below.

An unusual feature I experimented with was pockets made out of the garment fabric rather than a lighter material. On one hand, I wanted sturdier pockets that would stand up to a great deal of abuse, while on the other I felt a bit lazy about having to cut facings and affix them to a different pocketing material. This is what it ended up like prior to sewing up the side-seams:






I have to admit that the result is a bit bulky but I've been able to prevent the pocket seams from "printing" on the outer fabric by putting a little bit more care into the pressing. No complaints on that front.

Oh, and did I mention that it's completely hand-sewn? Complete with a number of bloodstains that would be barely noticeable unless one knew where to look for them -- and I certainly know, having made them myself!