The commercial landscape in Indonesian cities is dominated by all-too-familiar malls and chain supermarkets, but out in the country--with smaller consumer bases, and by and large a more limited range of needs--old-fashioned general stores still manage to eke out an existence undisturbed by more "modern" (or, anyway, more urbanised) retail outlets. One such rural general store was the feature that attracted my notice when I visited a megalithic site last week--more than the megalithic site itself, in fact, since there were no information centres or libraries or anything else I could visit to learn more about the current state of research on the site as opposed to just staring at the stones heaped all over the hillside.





One important feature of the store is the large porch with tables and benches, which provides tourists with shelter from the heat during the day and (presumably) the local villagers with space to gather and talk during the night.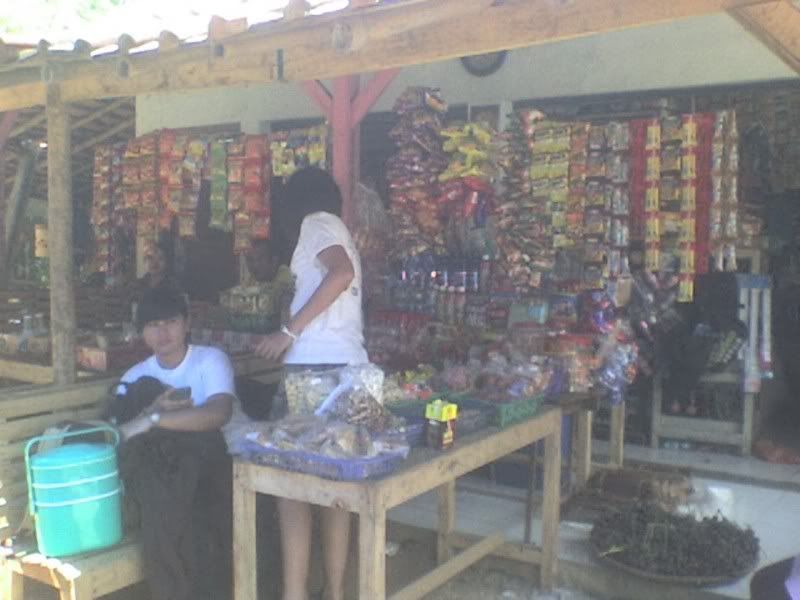 The outermost layers of merchandise displayed at the store largely consist of ready-to-consume snacks and drinks, no doubt for the benefit of tourists. But go around the back and suddenly there are all sorts of things from children's toys to simple electronics (torches, radios, cheap watches) to spices and fresh vegetables. Rather like a supermarket, in fact, just smaller and less formal.

Now I wonder about what happened to the suburban mom-and-pop grocery store I used to patronise in my childhood. I've probably been away from that neighbourhood for more than twelve or thirteen years now, and the last time the proprietors saw me I was probably still in elementary school. Maybe I'll pay them a visit some time in the future and see whether they (or their chiildren) can still keep the store running in the face of constant encroachment by minimarkets and all.